Just before our full staff training this year, when leadership, creative teams, and lifeguards were all at camp, we experienced a blackout. Electricity in camp and the surrounding areas went out, leaving us in a silent, darkening hold, much like in a technical rehearsal working on a long fade. This was nothing short of a panic moment for me, a new camp director eager for their first in-person summer. There were schedules to be finalized, emails to be answered, and yet we were without internet or even power for our computers.
After a few phone calls to neighboring camps to establish we were not alone in our plight, we decided that the best thing to do would be to accept that the evening's plan needed to be scuttled in favor of a campfire. At dinner, we announced there would be nothing formal that evening, but instead, we invited everyone to grab a chair or cushion and join us in the mini amp for a quiet evening by the flames. What ensued was a highlight of my summer.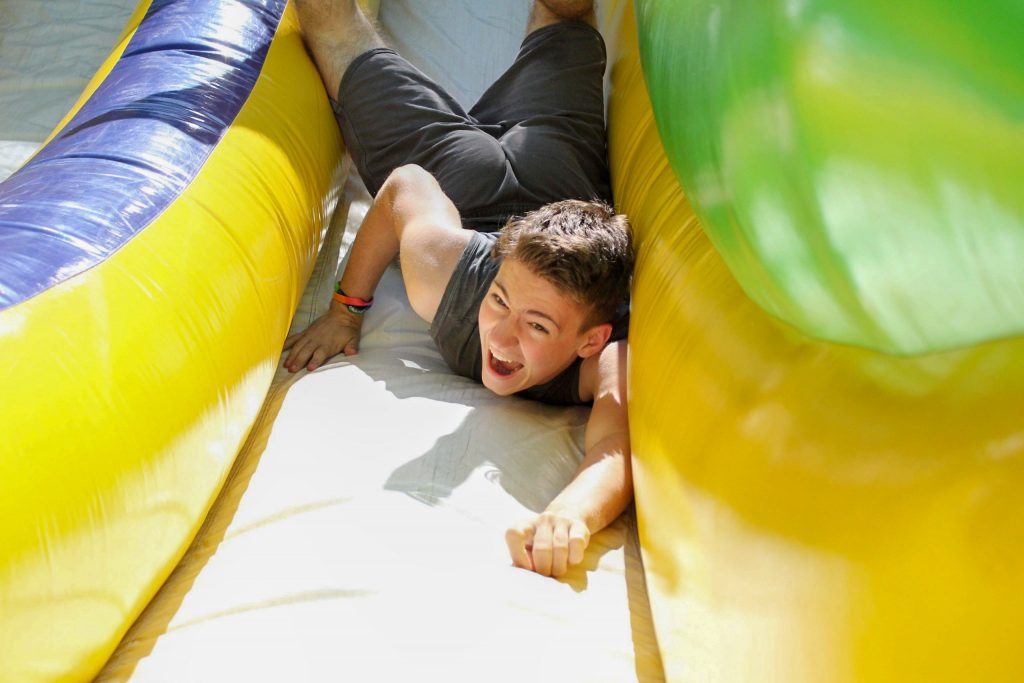 Cut to July 4th. A carnival planned with field day games and inflatable obstacle courses, a first for Ghostlight, quickly became a bad idea. The weather apps told us to expect torrential rain and thunder that day, with a beautiful day to follow the 5th. Justin, our activities coordinator, sheepishly approached me outside the dining hall to say, "Should we try to move everything a day?"
He knew what he was asking was more than, "Can we move the carnival?" It meant asking people to change their days off, to be ready for rehearsals that weren't yet planned, and to adjust their lives for what was best for our campers' experiences. Justin was already a pro at this, having selflessly changed an evening activity on audition day that had taken hours to set up to a pool party in the scorching early days of this summer. But would the rest of our staff, and even our campers, be open to this kind of change?
Not surprisingly, they were! The change wasn't without its hiccups, and many staff received huge thanks from us for being so accommodating. Still, it was best for the campers and July 5th, like the campfire at staff training, was a great success and a moment that renewed energy throughout camp.
"Subject to change." Every schedule sent, printed, or spoken about at any summer camp should be imprinted with this phrase. There are just too many variables to control, and to pretend you can is a recipe for inevitable frustration. But, as I was reflecting on our summer, the phrase struck me in a new way, one that feels equally as indelible to the Ghostlight experience as schedule shifts.
At Ghostlight, the phrase also seems to call us to be more human, more us, in camp than we perhaps are in the default world. We hear so often that there is rigidity outside of camp's gates, a need to get it right or else. At camp, sometimes imperfectly, we strive to create the conditions in which change can occur. Through offering a variety of classes, challenging campers to try new activities, and asking staff to stretch just beyond their comfort zones, to see the story behind the behavior, we believe that the experience of summer camp, and a theater camp no less, with its communal living and work environment, means anyone who joins us is up for a change of some sort.
I mentioned above that we are sometimes imperfect. I think that is my personal attempt to reflect on the change I have encountered this summer without seeming like I have it all figured out. You see, I, too, am a part of the ephemeral experiment that is Ghostlight Theater Camp.
Before starting camp, our leadership team took a test to identify our primary leadership styles and traits. As a team, we found we all had very little "chameleon," or the kind of trait that means change comes easily. In addition, yours truly is very much identified as a "timekeeper." Yes, I like my schedules, and I don't want them to change.
Knowing this and having the experience of the power outage, I began to recognize that as I get tired, cranky, overwhelmed, I resist change. I cling to order and push against any interaction that challenges the internal or external order I create. However, this summer, I was able to, in small ways, breathe through that anxiety. I made note throughout the summer that if planning is the hallmark of good camp directing, then responsiveness is the hallmark of good camping. Lesley and I had planned for so long that we might have become precious. But just like a director who plans for rehearsal but then fails to see the brilliance the cast and other creatives bring into the room, we would have sunk our ship without being able to respond to the reality in front of us this summer.
This shift, rigid planner to fluid responder, is one change that began in me this summer. I hope and know there will be more. The most fantastic news is that change continues outside of camp as well. We carry the spark with us that created it in the first place, and we know that in just over 300 days, we will all be back at camp to reignite that spark and again be subject to change.